ARTISOFT INC (OTC BB:ASFT.OB)
'ASFT' is no longer valid. It has changed to ASFT.OB.


Artisoft is the recognized leader in providing advanced computer telephony products that improve the way businesses communicate with their customers. How you keep in touch with customers, staff and vendors can determine your success and your company's image. Your telephone connections can be your greatest advantage - or they can waste your most precious resources: time, money and productivity.

To meet your evolving needs, telephone systems need to offer you many advanced features, but they must also suit the way that you and your company work. You need to be in control of your calls, messages and accessibility - not vice versa

Artisoft's TeleVantage is an intelligent phone system, designed specifically for small- to medium-sized businesses and branch offices. By combining the power of the desktop computer with the most advanced communications technology available, TeleVantage's unprecedented call management features help you maximize your productivity while controlling costs. TeleVantage lets you control the way you keep in touch, putting you miles ahead of the competition.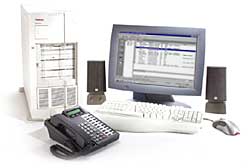 Tailored to meet your business needs today.
Adaptable architecture for tomorrow.
TeleVantage is an open systems IP-PBX that
delivers unprecedented communications capabilities to medium-size businesses, branch offices and call centers. The flexible software feature set makes it easy to customize and administer, allowing businesses to improve customer service and enhance productivity. Built on industry standards and supported by world-class Intel® technologies, TeleVantage eliminates the need for proprietary hardware, enabling it to grow and evolve as business needs change while maintaining a low cost of ownership.

TeleVantage 6.0: Feature for feature, no other phone system provides more value for the money
TeleVantage is a feature-rich software-based phone system (PBX) that delivers greater flexibility, value and lower cost of ownership to a variety of customers, from a small business or branch offices to call center environments and large enterprise organizations. TeleVantage operates on Microsoft Windows 2000/XP/2003 servers, industry-standard Intel voice-processing hardware, and any H.323, ADSI, IP or CLASS feature phone. Scaling easily up to 288 trunks by 720 extensions, TeleVantage provides intelligent call management, ACD, graphical interface, IP telephony, Web browser capability, and messaging. An intelligent, Windows-based interface provides complete call and message control from your PC desktop. Conference calls, forward, transfer or screen your calls with the click of a button.

TeleVantage Call Center: Powerful, Feature-Rich and Priced Right
TeleVantage Call Center enables businesses to implement powerful, affordable call centers to drive revenues and deliver superior customer service. TeleVantage Center offers a sophisticated feature set, including IP telephony to enable Web-based call centers and support agents working remotely; Voice- over-IP toll bypass to reduce costs; intelligent call management, queuing, and agent training features; and comprehensive trend analysis reporting and real-time statistic monitoring.

TeleVantage Small Office Edition: Affordable Turnkey Solution for Small Businesses
TeleVantage Small Office Edition is a turnkey bundled solution that enables small businesses to gain access to a sophisticated telephone system at an affordable price. Targeted for businesses with up to eight employees, TeleVantage Small Office Edition delivers a flexible feature set and a standards- based architecture that can easily expand and upgrade, providing small office owners with a solid return on their investment. The TeleVantage Small Office Edition comes fully equipped to support up to four telephone lines and eight handsets and includes the full functionality of Televantage, including voice mail, multi-level auto attendant, call forwarding and graphical administration; eight full-featured LCD handsets pre-programmed with softkey access to TeleVantage features; standard Intel Dialogic voice processing hardware that supports four analog trunks and eight handsets; and standard industrial communications server running Microsoft Windows 2000, XP, or 2003. This offering enables small businesses to reap the competitive advantages and strategic benefits associated with an advanced business communication solution.

User Manuals
TeleVantage 6.x Client Manual
TeleVantage 6.x Wallet Card

---

Intel offers a broad range of Telecom hardware and software products and services - ranging from boards to server software. These help converge voice and data technologies to answer communications needs for a range of environments from enterprise organizations to service providers.

Intel offers a range of media processing boards, signaling, and switching products designed for scalable, standards- based open computer telephony (CT) systems. Whether you need a single media resource or a combination of media processing resources, the integration of Intel telecom boards into CT systems makes computer information readily available over the worldwide telephone network that is accessible by multiple types of data terminals: wireline and wireless telephones, faxes, laptops, and more.

Media processing is at the core of most CT systems. It filters, analyzes, records, digitizes, compresses, stores, expands, and replays audio signals, as well as receives, recognizes, and generates specific telephone and network tones.

Signaling refers to the low-level data manipulation that adds value to the data. For example, digitizing, compressing, and storing the signal coming over a telephone line adds value to the signal by converting it to a more useful format that can be manipulated in a number of ways. This signal computing, or digital manipulation, is the bedrock of modern electronic information processing and communications.

Switching and conferencing rely on call control capabilities: routing, transferring, and connecting more than two parties. Once the province of public branch exchanges (PBXs) and proprietary switches, these capabilities are now available on expansion boards that can be easily incorporated into PC-based CT systems.
---
Combined Media Boards: Conferencing + Speech + Voice Boards
DM/V480A-2T1
DM/V600A-2E1
DMV3600BP
DMV600BTEP
DMV1200BTEP
DM/V2400A

Combined Media Boards: Voice - with Fax Boards
BRI/2VFD
D/4PCIUF
D/300JCT-E1
DM/VF240-1T1-PCIU
DM/VF300-1E1-PCIU
VFX/PCI

Combined Media Boards: Voice - with Fax + Speech Boards
D/41JCT-LS
D/120JCT-LS
D/160JCT
D/240JCT-T1
D/320JCT
D/480JCT-1T1
D/480JCT-2T1
D/600JCT-1E1
DMV160LP
D/600JCT-2E1
DM/V2400A
VFX/41JCT-LS

Combined Media Boards: Voice - with Speech Boards
DM/V960A-4T1
D/4PCIU4S
DM/V1200A-4E1

Single Media Boards: Conferencing Boards
DCB/320SC
DCB/960SC
MSI/80-GBL ISA
MSI/80-GBL PCI
MSI/160-GBL ISA
MSI/160-GBL PCI
MSI/240-GBL ISA

Single Media Boards: Fax Boards
CP6/SC
CP12/SC
CPi/100
CPi/200B (V.34 fax)
CPi/200B2 (V.34 fax)
CPi/200-PCI (V.17 fax)
CPi/400B (V.34 fax)
CPi/400B2 (V.34 fax)
CPi/400BRI PCI
CPi/400-PCI (V.17 fax)
CPi/2400-PCIU
CPi/2400-1T1-PCIU
CPi/3000-PCIU
CPi/3000-1E1-PCIU
DM/F240-1T1-PCIU
DM/F240-CPCI
DM/F240-PCIU
DM/F300-1E1-PCIU
DM/F300-CPCI
DM/F300-PCIU

Single Media Boards: Voice Boards
D/4PCI
D/4PCIU
D/41EPCI
D/80PCI
D/80SC
D/160SC
D/160SC-HS
D/160SC-LS
D/240PCI-T1
D/240SC
D/240SC-T1
D/240SC-2T1
D/300PCI-E1
D/300SC-E1
D/300SC-2E1
D/320PCI
D/320SC
D/480SC-2T1
D/600SC-2E1
D/640SC
DIALOG/4
DM/V480-4T1
DM/V600-4E1
DM/V960-4T1
DM/V1200-4E1


Signaling Boards: Digital Telephony Interface Boards
BRI/80-PCI
BRI/80PCI-GBL
BRI/160-PCI
BRI/160PCI-GBL
DM/T960-4T1
DM/T1200-4E1
DM/N960-4T1
DM/N1200-4E1
DMN160TEC
DMT160TEC
DTI/240SC
DTI/241SC
DTI/300SC
DTI/301SC
DTI/480SC
DTI/481SC
DTI/600SC
DTI/601SC

Signaling Boards: IP Boards
DM/IP241-1T1-PCI-100BT
DM/IP301-1E1-PCI-100BT
DM/IP481-2T1-PCI-100BT
DM/IP481-2T1-CPCI-100BT
DM/IP601-2E1-PCI-100BT
DM/IP601-2E1-CPCI-100BT
DM/IP601-CPCI-100BT
IPT1200C
IPT2400C
IPT4800C
IPT6720C
IPT10000C

Signaling Boards: Line-Tapping Boards
D/160SC-LS-HiZ
DMV160LPHIZ
DSLT/162CT-U-HiZ
DM/V480-2T1-PCI-HiZ
DM/V600-2E1-PCI-HiZ

Signaling Boards: PBX Integration Boards
D/42JCT-U
D/42-NE2 PCI
D/42-NSC
D/82JCT-U
DSE DL-3002
DSE DL-3007
DSE DL-3009

Signaling Boards: SS7 Boards
SS7HDC
SS7HDP
CPM8
SPCI2S
SPCI4
PCCS62E
PCCS62EBH
PCCS62EU
PCCS62EUH
PCCS62SEB
PCCS62ST
PCCS62T
PCCS62TH

Switching Boards: Conferencing + Speech + Station Interface + Voice Boards
DISI16R2
DISI24R2
DISI32R2
DI/SI32
DI0408LSAR2I
DI/0408-LS-A

Switching Boards: Station Interface Boards
HDSI/480
HDSI/720
HDSI/960
HDSI/1200
MSI/80-GBL ISA
MSI/80-GBL PCI
MSI/160-GBL ISA
MSI/160-GBL PCI
MSI/240-GBL ISA

Spare Parts & Accessories
DI0408BOBKIT
DI0408CBLKIT
DIINTPPS
CBLLSI160TSA240
CBLRJ21XMSISC
BOBRJ21XTORJ11
SA240PCI
SA240MSIGLOBAL
MSISCGBLPWRMOD


---


Teltone
TLS-3
TLS-5A
TLS-5C
TLS-5X


---


Digital Products Company
RI-001F


---