RH-30

Multiple Storage Driver Mobile Rack
RH-30 Series
(For 3.5" & Half-Height 3.5" H.D.D.)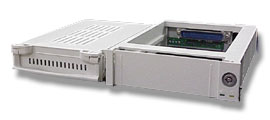 Powerful Easy-to-Use Functions:

Patent Pulling Handle For Quick Drive Carrier Release.
Power ON/OFF Key Lock To Avoid pulling out when working.
Durable Centronic Connector 2500 Insertion And Removal cycles.
Two LED To Indicate DC.Power And Driver Activity.
Patent AUTO-DOOR Set To Avoid Dust When Drive Carrier is pull out.

¡@

BOTH ATAPI AND SCSI TYPE FOR YOUR CHOICE
The RH30 is a raliable,lightweight Removable Rack for 3.5"AT/IDE or SCSI derices as.MO,ZIP,LS120,TYPE,H.D.D.,Users Can easily replace,and add devices without opening the PC Case.

RH-30 Specifications

¡@

Environment Specifications

Operation

Storage

Ambient Temperature
-5¢XC to 45¢XC
-20¢XC to 60¢XC
Relative Humidity(1)
10% to 80%
10% to 90%
Alititude
-1000 to 50,000 ft
-1,000 to 50,000 ft
-304m to 15240m
-300m to 15,240
Shock
More then Storage Driver

(1)Non-condensing with maximum Gradient of 10%per hour

¡@

PHYSICAL DIMENSIONS

Physical

specifications

Inner Rack

Driver Carrier

Outer frame

Receiving Frame

Height
35.70mm (1.406")
42.40mm (1.669")
Width
119.00mm (4.685")
146.00mm (5.748")
Depth
202.00mm (7.952")
219.00mm (8.622")
Weight
0.3Kg(0.66 Ibs)
0.2Kg (0.44IIbs)

¡@

Chassis Reliability/Maintainability

MTBF
500,000.Hours
Connector insert cycle
Surpass 2,500times
Preventive Maintenance
None

The Mobile Rack was made with heat-spreading vents on front side and from those vents air is into H.D.D. Hence the High-Capacity H.D.D. would be with good performance of heat-spreading and would easily read data without any mistakes.