The one year warranty applied to your Mobile Rack is on functionality only, that does not include fans that pick up a lot of dust over the next few months and start making a lot of noise. As long as the fan is still spinning, we will not accept noisy fans for grounds for warranty return after 30days. Sleeve bearing fans can become noisy in dusty environments in just a few months. Blow the fan with compressed air and lubricate with Silicon spray. You can even disconnect the fan, if the fan on the power supply is enough to cool the entire computer, or add an additional computer case cooling fan.
Warranty does not include physical damage, accidental or otherwise. Be very careful handling the SNT-129A, which has a thin handle which is weaker than most of our other models. Be careful pulling up the handle when removing the SNT-129A drive tray: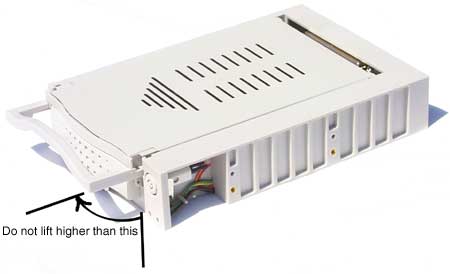 Faites attention en installant cet élément qui est fragile!
Important instructions to installing your SNT Mobile Rack
It is better to use a total of 8 screws to attach the frame to the computer bay, than just two on each side. There is a lot of physical force involved as the caddy is pulled and inserted from the frame, the frame can loosen from the bay.
The harddisk drive in the caddy, there must be a 5mm gap between the harddrive and the inside front of the caddy. The locking pivot must be able to move into place without hitting the harddrive.

This is the most important issue in installing the harddisk in the caddy. If you have installed other SNT Mobile Racks, check them and see if they have satisfied this criteria!
Use the enclosed tapered screws to affix the harddisk drive firmly in the caddy. Unless the harddisk is only to be put into a caddy temporarily (ie., attach harddisk to caddy, copy some files over, disconnect harddisk from caddy), the harddisk drive must be properly permanently screwed into the caddy, and remember a 5mm gap from the front must be spaced.
If your SNT frame has a cooling fan in the rear, be sure no wires or anything else can run into it to obstruct it. One major problem in all types of cooling fans is accumilation of dirt, causing a noisy fan. Should this happen, you can stop the fan by disconnecting its power lead (it will be obvious). The fan does not provide all the cooling, as it only aides in cooling. Majority of the cooling is the ability of the fan in the computer's power supply, and adequate air flow of the computer case.


Il y a une garantie de 1 année sur le disque dur amovible. La garantie n'inclut pas de saleté à l'intérieur des ventilateurs. La saleté cause les ventilateurs de faire le bruit. Les ventilateurs sleeve-bearing dans une région sale peut devenir bruyante dans quelques mois. Il est recommandé pour nettoyer une fois la saleté des ventilateurs au moins chaque mois. Le ventilateur peut être propre avec l'air comprimé. Le ventilateur peut être lubrifié avec silicium. Le ventilateur peut aussi être déconnecté s'il y a le refroidir adéquat à l'intérieur de l'ordinateur.
La garantie n'est pas couverte par dégât physique. Quand utiliser le SNT-129A, soyez très prudent. Le SNT-129A a un manche plastique mince qui peut être cassé facilement. Ce manche est plus faible que nos autres produits.
Directives importantes pour installer votre tiroir amovible.
1. Utilisez un total de 8 vis pour installer les rails dans l'ordinateur. Utiliser seulement 2 vis sur chaque côté n'est pas suffisant. Les rails peuvent devenir dégagés avec le temps si ce n'est pas hermétiquement en place.
2. Quand le disque dur est placé dans le tiroir, faites un espace de 5mm entre devant le disque dur. Le fermant à clé mécanisme doit être capable de tourner sans le disque dur qui cause l'obstruction.
3. C'est la note la plus importante. Le disque dur doit être installé fermement dans le tiroir avec les vis spéciales qui sont effilées. Cela peut être évité si le disque dur est temporairement dans le tiroir pour chargement du disque dur.
4. S'il y a un ventilateur, assurez-vous c'est clair de fils à l'intérieur de l'ordinateur.